My first wallpapers, whee! I know in a few months I'll be looking at these and going, "Ugh what the hell was I thinking," but for now I'm proud of 'em. My first foray into something bigger than 700x300 (the size I usually use for headers).
- comment, I like to know what you liked :)
- no hotlinking, no editing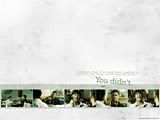 I only made 2 sizes; not sure what resolution most people are using. If anyone out there wants the wallpapers in another size, please comment and I'll see what I can do.
caps from
bluebear_74
(at
Striped Wall
)
resources